Unfortunately, the demo of this game is not available on mobile.
Game Info
Type of Game
slots
Software
IGT
Demo Mode
Yes
Min/Max Bet
1
Reels
5
Paylines
1024

Pros and Cons Reviewed
Every online slot game has its unique strengths and weaknesses, and when you play Pamplona, there is no exception. This game offers a thrilling gaming experience with its unique theme and features. However, it's essential to understand its pros and cons to make an informed decision before playing on desktop or mobile devices in 2023.
Pros for this Game
Engaging theme based on the famous Spanish festival
High-quality graphics and sound effects
Variety of bonus features
Developed by renowned software provider IGT
Available for play on mobile devices
Suitable for players of all budget levels
Cons for this Game
High volatility may lead to less frequent wins
No progressive jackpot
The bonus round can be challenging to trigger
No demo version available on some platforms
Pamplona Popularity at Real Money Online Casinos
IGT's Pamplona slot has carved a niche for itself among the best Canadian casinos online. Its unique bullfighting theme, coupled with high volatility and potential for big wins, has made it a go-to choice for many Canadian players. The game's popularity continues to grow as more players discover its exciting features and immersive gameplay.
Pamplona : Game Theme Reviewed
Play the Pamplona slot and be transported to the heart of the famous Spanish bullfighting festival. The game's vibrant graphics and traditional Spanish music create an immersive atmosphere that players love. The Pamplona slot machine features a lucrative bull symbol stacked on the reels, offering payouts ranging from x10 to x500.
Symbols representing Spanish festivals grant mid-range payouts, while card letters and numbers offer smaller rewards. The wild symbol, featuring a bullfighter, substitutes for other symbols and doubles payouts. The scatter symbol, depicting a powerful bull, triggers the El Toro Bonus feature and offers incredible cash prizes.
RTP and Volatility of this Slot Machine
When you play the Pamplona slot, you can look forward to a competitive Return to Player (RTP) rate of 96.03% and a high volatility. This means that while wins may not come frequently, when they do, they can be quite substantial. This high-risk, high-reward dynamic makes Pamplona an exciting choice for thrill-seeking players.
Pamplona Jackpot
While Pamplona may not feature a progressive jackpot, it does offer a substantial maximum payout that can lead to significant wins. Players have the opportunity to win big through the game's thrilling bonus features, such as the Free Spins and Multiplier.
These features can enhance the gameplay experience and increase the potential for lucrative rewards. The exact maximum amount a player can win on the Pamplona slot by IGT may vary but depending on your bet, you could win up to 25,000,000.
How to Play Pamplona
Play the Pamplona slots online for a combination of simplicity with strategic decision-making. The game's user-friendly interface and clear instructions make it easy to get started. However, understanding the game's unique features and mechanics can potentially increase your chances of securing a win. Here's a guide on how to navigate the bullfighting arena and make the most of your spinning adventure.
Select your bet size: Use the '+' and '-' buttons to adjust your bet size. This will be the amount you wager on each spin.
Choose the number of paylines: Pamplona slot offers multiple paylines. You can choose how many paylines you want to play with. Remember, the more paylines you play with, the higher your chances of winning.
Hit the spin button: Once you've set your bet size and chosen your paylines, click on the 'Spin' button to start the game.
Understand the symbols: Familiarize yourself with the game's symbols and their values. The bullfighter is the wild symbol, and the bull is the scatter symbol. The wild can substitute for any other symbol except the scatter to create winning combinations.
Trigger bonus features: Landing three or more scatter symbols will trigger the El Toro Bonus feature, where you can choose your free spins and multiplier.
How to Play - Bonus Features in Pamplona
The Pamplona free slot game is not just about spinning the reels; it's also about engaging with its rich array of bonus features. These features, each with its unique mechanics, add an extra layer of excitement to the game, making every spin a potential gateway to substantial rewards. From free spins to multipliers, these bonus features are designed to give you more opportunities for big wins. Find details of these features below:
Bonus Feature
Explanation
Free Spins
Triggered by landing three or more scatter symbols, this feature awards you with a certain number of free spins and a multiplier.
El Toro Bonus
This feature allows you to choose your own bonus by selecting the number of free spins and the multiplier.
Wild Symbol
The wild symbol substitutes for all other symbols except the scatter, helping to create winning combinations.
Matador Multiplier
During the free spins round, the Matador symbol can appear and multiply your winnings, adding an extra thrill to the game.
Bull Scatter
The Bull symbol acts as a scatter and triggers the El Toro Bonus when three or more appear on the reels.
Best Canada Online Casinos - Play & Keep Your Winnings
Play the Pamplona slot at the best Canadian online casinos to ensure that you are having a safe and enjoyable gaming experience. Here are our top three recommended casinos where you can play this game in 2023.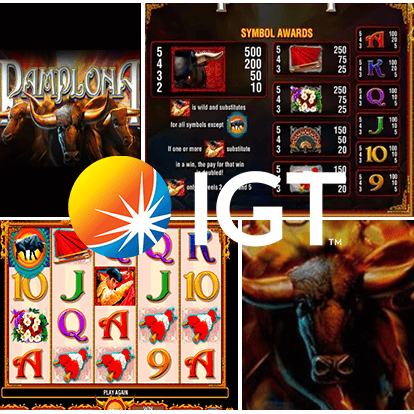 About IGT Casino Software
IGT, a leading gaming company, started with simple slot machines that attracted players despite modest winnings. They focused on innovation and computerization, becoming pioneers of progressive jackpots. Today, IGT excels in designing visually stunning and high-performing video slots with unique features and progressive jackpots. Their extensive product lineup includes online slots, table games like blackjack and roulette, online board games, and lotteries.
IGT's history dates back to the 1950s when they developed slot machines for land-based casinos, and they have since expanded globally through acquisitions. In 2010, IGT launched IGT Interactive to develop software for online casinos. The company changed its name to International Game Technology in 2015 and continues to be a major player in the gaming industry, with estimated annual revenue surpassing two billion US dollars.
How We Rate and Review Pamplona Slot
Our Pamplona reviews are based on a comprehensive evaluation process that considers a variety of factors. We assess the game's theme, looking at how well it's executed and how engaging it is for players. We delve into the bonus features, examining how they contribute to the gameplay and the potential rewards they offer.
The Return to Player (RTP) and volatility are also crucial factors in our review, as they give players an idea of the risk involved and the potential return on their wagers. We also consider the overall gameplay experience, including the graphics, sound effects, and user interface. Ultimately, our goal is to provide a thorough and unbiased Pamplona slot review that helps players make an informed decision about whether to play the game.
How We Rate and Review the Best Recommended Casinos
When reviewing the best online casinos, we look at the game selection, ensuring that the casino offers a wide range of games from top software providers. We assess the bonuses and promotions, checking for fair terms and conditions and valuable offers. Security is a top priority, so we verify that the casino uses advanced encryption technology and holds a valid license.
We also evaluate the customer support, looking for responsive and helpful service. Furthermore, we consider the casino's reputation among players and in the industry. By taking all these factors into account, we aim to recommend only the most reliable and enjoyable online casinos to our Canadian players.
Play Pamplona Slot on Mobile
Once you delve into the captivating world of these mesmerizing 3D slots, you'll find it impossible to tear your eyes away from the screen. The beauty of it all is that you can enjoy many of the IGT Slots not only on your desktop but also on your tablet and mobile devices. You can even play slot titles in demo mode with no registration required at some of the top mobile casinos online in the industry.
This remarkable flexibility means that regardless of your location or activity, you can immerse yourself in the heart of the action, engaging in an exhilarating battle with the bull as you strive for victory. Keep in mind that while the bulls may bring inherent danger, they also hold the potential for lucrative bonuses. And where there's a bonus, there's only one outcome: a resounding big win.
How to Play with No Deposit and Low Minimum Deposit
If you want to play the Pamplona slot, it doesn't necessarily have to require a large investment. In fact, you can enjoy this thrilling game with fantastic no deposit bonuses or low minimum deposits. This means you can experience the excitement of real money play without risking a significant amount of your own money. It's a great way to familiarize yourself with the game's mechanics and features before deciding to increase your stake.
Play with Low Minimum or No Deposit Here
Ready to take the bull by the horns and start playing Pamplona slot? Here are five of our recommended casino brands that offer either a no deposit bonus or a low minimum deposit bonus for real money players:
FAQs
Whether you're curious about the gameplay, the bonus features, or how to maximize your winning opportunities, we've got you covered. We've compiled a list of frequently asked questions about the playstyle of Pamplona slot games, specifically tailored for Canadian players. These questions cover a wide range of topics, from the game's mechanics to its mobile compatibility, providing you with a good understanding of the game.
Can you play Pamplona for free on a mobile app?

Yes, Pamplona is mobile-friendly and can be played for fun trhough demo mode on a mobile app or through your mobile browser on your iphone, android and more with no download.

Can you play Pamplona for free without registering to an online casino?

Yes, most online casinos offer a demo version of Pamplona that you can play for free without registration.

Is the RTP of this game considered good?

Yes, Pamplona has a competitive RTP of 96.03%, making it a good choice for players looking for a high return on their bets.

Does this game have a progressive jackpot?

No, Pamplona does not feature a progressive jackpot. However, it does offer a substantial maximum payout.

Does this game have a slots bonus round?

Yes, Pamplona features a bonus round that is triggered by landing three or more scatter symbols.

What does volatility mean and is it good on Pamplona?

Volatility refers to the risk level of a slot game. Pamplona has high volatility, which means it offers the potential for big wins, but they may not occur frequently.

What is the most real money you can win on this game?

The maximum payout in Pamplona depends on your bet size and the symbols you land. The game's paytable provides detailed information on potential winnings.

Have there been legit online casino winners in Canada playing this game?

Yes, there have been numerous reports of players in Canada winning substantial amounts on Pamplona.

What is the best online casino in Canada to play this game?

The best online casino to play Pamplona varies based on individual preferences. We recommend choosing a casino that is licensed, offers a good selection of games, and provides reliable customer support.

What makes this game stand out from the rest?

Pamplona stands out for its unique theme, engaging gameplay, and variety of bonus features.
Try These Other IGT Slots if you Enjoyed Pamplona
If you found the Pamplona slot engaging, you might want to explore other slot games from IGT. Known for their innovative features and captivating themes, IGT slots offer a diverse range of gaming experiences. Some popular IGT slots that you might enjoy include Book Of Ra, known for its ancient Egyptian theme and generous free spins feature, and Double Diamonds, which offers a unique tumbling reels feature and a rich art history theme.
Alternative Online Slots To Play
While this is a popular choice among Canadian players, there are many other free online slots that have gained widespread popularity. These include titles from various software providers, each offering different adventures and features for Canadian players. Take a look at our top recommended list below to find more enjoyable games such as the popular Mega Moolah slot by Microgaming, which is a progressive jackpot slot that has made several players millionaires. This game, along with Pamplona, make up some of the most popular online slots.
Best Free Games Software Providers by Category
Explore a wide range of the best free games in the industry from top software providers. Click on the links below to discover free slots from different providers, each offering unique themes, bonus features, and gameplay mechanics.