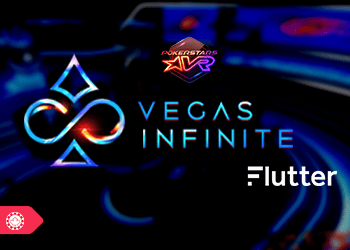 Flutter Entertainment and its state-of-the-art online poker platform, PokerStars, are leading the way when it comes to innovation in the online casino industry. Both companies have recently announced that they are modernising the virtual reality (VR) product that was initially released back in 2018. Online-Casinos.ca takes a closer look at the announcement and the impact it will have for online players across the globe.
Vegas Infinite - The Ambitious Project
PokerStars VR will be referred to as Vegas Infinite, a more ambitious and broader project within the online poker brand. Vegas Infinite is establishing itself as the next virtual entertainment destination, pivoting heavily towards innovative technologies, including NFTs, Blockchain, VR & AR, 3D, and more. Vegas Infinite can be described as a scaled metaverse where online players will benefit from rooftop escapes, luxury online casinos, and personal player suites. To access Vegas Infinite, online players will need to connect via Steam VR or Meta Quest VR. The project also wants to improve accessibility for consumers by eliminating the need for a headset.
The Pokerstars VR solution was released prior to the Flutter Entertainment acquisition in 2021. When this occurred, the parent company utilised its portfolio of solutions, known as Flutter Edge, designed to enhance the overall performance of the online platform, resulting in a brand-new look and feel. James O'Reilly, the Director of VR & Innovation at PokerStars, also welcomed the unique opportunity to witness this fascinating product that has been streamlined and reimagined once again to cater to avid online players. He stated that the company is much more than VR and poker and that Vegas Infinite is where players are being transported to next with loads more in store.
Poker Gameplay Gets Revitalised with Excellent Products
One of the most significant innovations embedded within Vegas Infinite is ToxMod, a new moderation system that uses AI technology to identify behaviours like harassment, discrimination and hate speech in real time. This will further add to player safety found on the website. Additionally, players can access several in-game tools that are designed to assist them in controlling their spending limits and track the amount of money they have spent in general.
All of these additional add-ons are executed in an efficient and frictionless manner according to PokerStars and Flutter Entertainment. Players can also look forward to a wide variety of other excellent products at Vegas Infinite to revitalise poker gameplay by including some more "casual" experiences, such as slots, craps, roulette, blackjack, and Rocket Rush, an in-house production by the company. Even though its wow-factor and high-buzz value, virtual reality is still in its infancy when it comes to the online gambling industry and while it's inevitable, its adoption will take time.
Best Virtual Reality Casinos Online in 2023
We are well aware that the Metaverse is a daunting and confusing environment, and frankly, we still don't fully understand it yet, either. The only way we can currently grasp the complexity of the Metaverse is to take a closer look at virtual reality casinos and how they work. This next-level experience will allow players to fully immerse themselves in the online casino environment without having to leave their own homes. Online casinos have been providing their services for years, essentially since the inception of the internet. The best live dealer casinos have done an excellent job in bridging the gap between online casinos and physical establishments, providing a more authentic gaming experience.
However, VR casinos are aiming to take the authenticity to a whole other level. Online players will be able to interact with other players, communicate with dealers, move around in a virtual casino space, and purchase unique items for their avatars. Unfortunately, virtual reality casinos are still a new concept which means you won't find hundreds of online destinations where you can login with your headset and gamble. Thankfully, it's already possible to enjoy a VR gaming experience at Slotsmillion Casino. This is essentially the first of its kind, giving you access to more than 40 games in a private and fun gaming environment. Once more VR casinos surface within the industry, you'll be the first to know at Online-Casinos.ca!
Latest News
See all News