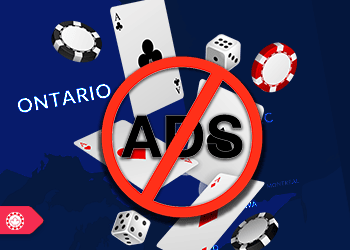 Ontario's gaming officials have followed through on their quest to regulate online gambling ads. The Alcohol and Gaming Commission of Ontario (AGCO) states that the province is prohibiting gambling commercials featuring celebrities and sports stars. The new restrictions will be put into operation on 28 February 2024. The decision was made by the AGCO after it determined that banning the use of celebrity and athlete endorsements would assist in safeguarding youth and children who can be susceptible to advertising content.
The move follows a demand for new rules after authorities were requested to deal with the torrent of ads. Ontario became the first province in Canada to launch an open and regulated online gambling market in April 2022. Online-Casinos Canada has been covering the efforts by regulators to ban the use of sports stars and athletes in online gambling ads since April 2023. Let's take a look at the details about the new rules as well as the companies and ads that will be impacted by the ban once it's active.
Details About the New Rules
No athletes, either retired or active, can be used in marketing or ads for online gambling in Ontario as of Feb. 28, 2024. An exception will be made for any athletes who are campaigning for responsible gambling practices. The ban will also include the use of entertainers, social media influencers, cartoon figures, role models, and symbols that will likely appeal to minors.
The new restrictions implemented by the Alcohol and Gaming Commission of Ontario will not affect the style, location, or volume of ads. Unfortunately, this might not please everyone. There have been several criticisms and complaints surrounding the rapid rise of internet gambling ads, especially during live sporting events. Sports enthusiasts noted the commercials total run times compared to the total game clock, and voiced their concerns.
Companies and Ads that will be Impacted by the Ban
The wide variety of advertisements that encourage players to bet on sporting events or to gamble at the best Ontario online casinos is both dangerous and annoying, according to a Canadian senator. Sports betting in Canada has been legal since 2021. However, at the moment, there are no rules on how it should be advertised. Marty Deacon, representing the Waterloo region in Ontario as an independent, has successfully coached various athletes and has been involved with Team Canada at 15 Pan Am, Commonwealth, and Olympic Games since 1994.
Deacon states that sports betting ads, often featuring athletes or celebrities, have become very sensational, addictive, and attractive, drawing in vulnerable and young people across the country. With the upcoming ban in Ontario, there will be multiple companies and advertisements that will be impacted by the new restrictions. Below, we highlighted some of the biggest brands and sports stars that will be affected by the new rules on 24 February 2024.
BetMGM and Jamie Foxx
Jamie Foxx has recently returned to his Ray roots with a new advertising campaign for BetMGM. In the ad, Jamie is presented in a sleek black suit, playing the piano inside the Park MGM Las Vegas. The ad perfectly coincides with the 2023 NFL season kickoff where he promotes the sports betting app from BetMGM. While promoting the new app, a party of athletic activity appear around him, breaking the jazzy and peaceful ambience.
LeoVegas and Mats Sundin
The Swedish ice hockey legend, Mats Sundin, has been the brand ambassador for LeoVegas Casino since 2019. In the latest YouTube video for LeoVegas, Mats Sundin invites players to play hockey alongside him. Players at LeoVegas Casino stand a chance to hit the ice with Mats Sundin, enjoy an overnight stay for two in Toronto, and will get the opportunity to have lunch with the hockey legend and other hockey alumni. Players will even benefit from an exclusive event at a real sports bar.
Fanduel and Kevin Hart
Perfectly timed for the NFL season, DraftKings online sportsbook has recently unveiled it's upcoming ad featuring former NFL player Ryan Fitzpatrick and comedian Kevin Hart. Capitalising on Kevin Hart's brand of comedic aggressiveness and transforming Ryan's last name into Fitzmagic, both starts entertain audiences while informing players about the new promotional offer at Draftkings where you can bet $5 and instantly receive $200 in bonus bets.
Wheelz and David Hasselhoff
David Hasselhoff has been the face for Wheelz Casino since 2021. In the partnership's latest collaboration, Dj Wheelz can be found on the turntables while Hasselhoff is driving through Las Vegas with his dog, singing the catchy Wheels Spinning single in a captivating music video. Roulette wheels and slot machine reels keep spinning in this advertisement as David Hasslehoff shares his love for the game while driving through the glitzy and glamorous Las Vegas streets.
Enjoy Ad-Free Entertainment at the Best Ontario Online Casinos
With the new rules that will come into effect on 28 February 2024, banning gambling ads in Ontario, there has never been a better time to enjoy a safe and reliable online gaming experience with no influences or interruptions in sight. If you are new to the world of online casino gaming, we highly recommend taking a look at our top recommendations below.
At each of these gaming establishments, you'll be treated to generous welcome packages, thousands of games, and professional customer support with plenty of trusted banking methods on both desktop and mobile devices. You can also unlock a plethora of loyalty rewards and look forward to plenty of interesting ongoing promotions to keep you entertainment for hours on end.
Latest News
See all News