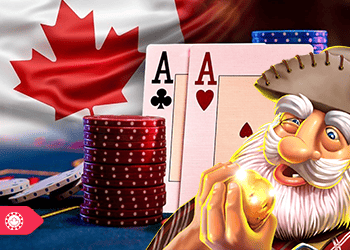 Online gambling unlocks a world of anticipation and excitement, where winning big is the ultimate goal, and nothing is more newsworthy than life-changing payouts at top Canadian online casinos. There are several ways to win big, ranging from playing the best progressive jackpots to perfecting your skills and using the best strategies in a variety of casino games. Wagering real money for a chance to claim huge payouts has paid off often when considering the big multi-billion winner history in Canada, including lotto and online casino payouts. Yet, the unclaimed winnings reach millions every year even though the majority of prizes are claimed. Below, we've listed some of the largest winnings that are still unclaimed by Canadian players.
No Winner for the $55 Million Lotto Max Jackpot
There is still no winner for the massive $55 million Lotto Max jackpot that took place on Friday, July 7 as no one could predict all seven winning numbers. Although, three individuals matched up six winning numbers. One of the tickets was bought in Western Canada, while Ontario sold two of the winning tickets. Consequently, each lottery participant will receive a cheque worth $82,911.10. On Friday, four Maxmillions prizes were up for grabs, although only one recipient. One fortunate Quebec participant with the winning numbers 5-6-18-21-40-49 and 50 will have a weekend to remember after winning $1 million. In the next draw scheduled for Tuesday, the jackpot has grown to $60 million, with an estimated six winners of Maxmillions prizes.
Unclaimed Lotto Max Prize of $70 Million has Expired
Wednesday marked the expiration of a $70 million Lotto Max prize that was officially unclaimed, leaving its proprietor, whoever they may be, ostensibly without any further options. The life-altering sum became media attention focus in recent months after the awareness campaign launched by the Ontario Lottery and Gaming Corporation (OLG) to locate the legitimate proprietor of the multimillion-dollar windfall, which was initially drawn on Tuesday, June 28, 2022, during the Lotto Max draw. Despite all efforts, the deadline for validating the winning ticket, originally sold at a Scarborough lottery retailer, passed on June 28, 2023. If the Lotto Max ticket remains unclaimed, the prize of $70 million gets redistributed to participants through upcoming promotions and bonuses. Fortunately, a New Zealand couple were smart enough to keep their ticket and claim their prize in a timely manner.
New Zealander Who Won $33 Million Kept Ticket in Sock Drawer
After winning a significant amount of money in a New Zealand lottery, a Christchurch couple share their struggles, determining exactly how to manage their extraordinary fortune. At least the couple from NZ were unconcerned that the winning ticket of NZ$33-million, could be stolen, as they stowed it away in their sock's drawer. The couple, wishing to remain anonymous, also shared their astonishment, winning the June 28 lottery, leaving them speechless, although they only claimed their prize on July 8. Processing the win required additional time, so did getting their affairs in order before planning the course of action in collecting their winnings. It ranks as the 9th highest lottery win of the year and is something that can only be achieved if you play progressive jackpot slots at the best NZ online casinos.
Regional and National Lottery Draws in Canada
Canada provides both regional and national lottery draws where the biggest games offer life-changing jackpots that are usually seeded at $5 million or even $10 million. There are essentially three national lottery draws in Canada, including Lotto 6/49, Lotto Max and The Daily Grand, along with several regional lotteries, such as Atlantic 49, BC 49, Ontario 49, Western Max and Western 6/49. In 2023, Canadians can buy tickets to the regional and national lottery draws through online portals in every province instead of walking to the nearest lottery retailer. In addition, you can also take advantage of lottery-style games that cover instant win games like bingo, scratch cards and Pro-Line sports betting.
There are loads of advantages to using online portals to purchase your lottery tickets, including avoiding long queues, having access to additional products, the ability to use a mobile app and the built-in responsible gambling features. You can also purchase your tickets through a wide range of safe and reliable payment methods, including debit/credit cards, Interac, Web Cash, Apple Pay and more. The list of Canadian lottery companies that are providing their products and services online include the Atlantic Lottery Corporation (ALC), the British Columbia Lottery Corporation (BCLC), Loto-Quebec, Ontario Lottery and Gaming Corporation (OLG), and the Western Canada Lottery Corporation (WCLC).
Latest News
See all News