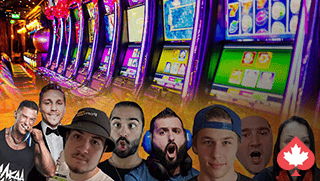 Casino gambling is a very popular activity the world over. Some folks like to gamble for profit, while others like to game just for fun. Nowadays, you'll even come across gambling streamers (both online and offline), which is what our topic is all about. You'll find them on various channels, including Twitch, and YouTube, and the number keeps growing by the dawn of each day.
Steamers essentially upload free videos for their subscribers, which get a huge amount of views, likes and comments. We are going to list the top gaming streamers from Canada, who you can perhaps check out to find out what the hype is all about.
Slotlady YouTube Casino Streamer
This streamer is one of the top gambling offline casino streamers on Twitch - as well as a YouTube author, established in June 2017 in Canada. SlotLady has published over 2, 3320 videos over the last 5 years. All these videos have got more than 116,746,000 views, 2,322,000 likes, and 229,000 comments. Since the start of 2022, the streamer has uploaded 275 videos in total. The average video in 2022, (of about 28 minutes) has got over 40 comments, 790 likes, and 32,900 views. The most frequent topics on the channel revolve around card games, slots, and real casinos. Basically, you can find Slotlady on different social media platforms like Twitter, Tik Tok, and Instagram.
Xposed
Xposed is also among the top online casino gambling streamers on Twitch in Canada and an author on YouTube. The streamer's YouTube channel went live in May 2017 and has since published over 800 videos. All the videos got more than 92,000 comments, 1,524,000 likes and 92,207,000 views. The last stream was uploaded yesterday. Most of Xposed streamer's content is centered on slot games, card games, and live dealers. You'll find a video where the streamer shows a massive win on Juicy Fruits Slot among others. This gaming content creator can be found on social platforms such as Instagram, Twitter, and TikTok.
WatchGamesTV
Also, a top-rated gambling streamer from Canada, WatchGames TV has got a YouTube channel created in April 2014. Since establishing the channel, the streamer has generated over 860 videos for a total duration of more than 240 hours. They got over 1,813,000 likes, 66,940,000 views and 167,000 comments. In 2022 alone, the streamer has released 140 videos vs 104 videos within the same period the previous year. The average video by WatchGamesTV in 2022, (which is about 23 minutes) has got 1,290 likes, 90 comments, and 47,900 views. Most of the content on this channel involves slot games. The streamer can also be found on Facebook, Twitter, and Instagram.
SlotMan Jack Casino Gambling Streamer
We've also got SlotMan Jack rated among the top gambling streamers. The streamers YouTube channel was established in September 2012 in Canada and has since published over 910 videos. All the videos on the channel have got more than 33,000 comments, 159,000 likes, and 22,526,000 views. Since the start of 2022, the streamer has uploaded a total of 19 videos. SlotMan Jack's typical video has about 20 comments, 1,400 views, and 70 likes, and is around 9 minutes. Mostly, this streamer's content will involve real casinos and slots. On the channel, you'll find a video with a big win on Buffalo Chief Slot at Caesars Las Vegas. SlotMan Jack isn't active on any of the social media platforms.
Toaster
This is also another one of the top-rated YouTube gambling streamers from Canada. The YouTube channel has been in existence since 2020 and over the last two years, the streamer has published over 550 videos. All the videos on this channel have more than 210,000 comments, 602,000 likes, and 19,335,000 views. Toaster has uploaded 172 videos in 2022, which go for about 9 minutes each. The average video roughly has 470 comments, 34,200 views, and 1,420 likes. Most of the content on the channel orbits around slot machines. The steamer has a few videos with big wins, with Joker Bombs being the latest huge payout to one of the subscribers. You can find Toaster on Twitter.
Latest News
See all News